Shows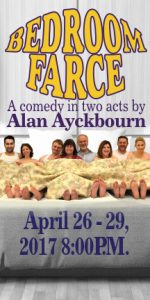 by Alan Ayckbourn
April 26 – 29, 2017
Flato Markham Theatre 8:00pm
With relationships ranging from solid to rocky, four couples spend one evening in three bedrooms. Sounds confusing? It is, and hilariously so!
This popular farce explores the many facets of the bewildering roller-coaster ride that we call marriage.
Tickets can be purchased by calling Flato Markham Theatre at (905) 305-7469 or by visiting the Flato Markham Theatre Website
RTO/ERO: Please quote "District 16" when ordering your tickets
We Have a Cast!

Click Here for Some Fun Rehearsal Photos
CALL FOR DIRECTORS!  NOTICE TO DIRECT DUE APRIL 25TH
Markham Little Theatre is now seeking applications from potential directors for the 2017-2018 season.
Director presentations will be held on Monday, May 1, 2017 at 7:00pm.
We will meet at our "Backstage" rehearsal space located on the grounds of the Markham Museum at the corner of 16th Avenue and Hwy 48.
Interested applicants should contact MLT President Terry Browne at
terrybrowne@rogers.com
Presentation Criteria:
Interested directors should be prepared to provide a 10-15 minute presentation on the following:
– Your directing experience and history
– Play synopsis and style
– Characters and casting
– Production style and vision
– Budget
– Requirements for Set, Costume, Lighting, Sound, Make-up, etc.
– Scenic models or drawings are NOT required
This is a non-paid, volunteer position. Rehearsals are generally 7-8 weeks in duration (Tuesday and Thursday evenings and Sunday).   Rehearsals and production construction will be held at "Backstage".
The productions run for 4 performances at the Flato Markham Theatre, with the exception of the September show. Because of renovations at Flato, the run of On a First Name Basis will be held at "Backstage" over a period of two weeks (approximately 8 shows).
2017-2018 Season Selection: Titles & Dates
On a First Name Basis
A Comedy by Norm Foster
Dates (tentative): September 13-16 and 20-23, 2017
This heartwarming Canadian comedy introduces us to David Kilbride, a successful but self-involved novelist who is confronted by his housekeeper of 28 years. When it is revealed that he knows absolutely nothing about her, including her first name, he makes it his evening's mission to learn everything he can about his outspoken employee. She isn't going to make his job an easy one!
Jitters
A Comedy by David French
November 15-19, 2017
Everything that could go wrong, does go wrong in this hilarious examination of what takes place behind the curtain of an ambitious new play. It's opening night, and things are not going well. Egos are clashing, the crew is frustrated, and the playwright is desperate. Throw in a male lead who can't remember his lines and the promise of a New York producer in the audience, and watch the action unfurl in this popular Canadian comedy.
I'll Be Back Before Midnight
A Mystery / Thriller by Peter Colley
February 14-18, 2018
Jan and Greg are in desperate need of some time alone. Their marriage is on shaky ground, and an isolated farmhouse seems the perfect place to regain their footing. It soon becomes clear, however, that everything is not as it seems. Their idyllic getaway becomes a nightmare in this heart-stopping thriller, as we accompany our characters on the twists and turns of a deliciously sinister and spooky adventure.
The Perfect Wedding
A Comedy by Robert Hawdon
May 2-6, 2018
Bill wakes up on his wedding day with a bit of a hangover and a beautiful woman in his bed. The only problem? He's never seen her before, and he's got to get rid of her before his fiancée shows up! This fun production pulls characters — and audiences — into a swirl of misunderstandings and mistaken identities. This side-splitting farce will be sure to leave you laughing!
SUBSCRIPTION FORM
Feel free to print the subscription form and submit it to the Flato Markham Theatre box office: by mail, fax, phone, or in person.